Indian Lake Park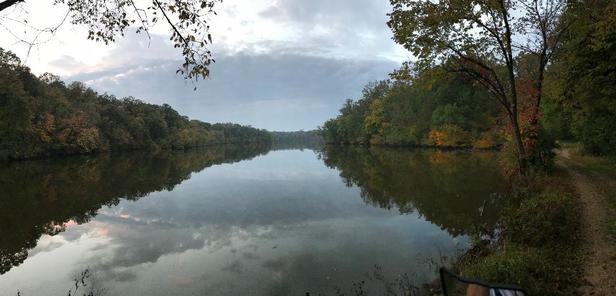 Indian Lake Park is a 177-acre, city owned park. This delightful retreat is an ideal location not only for fishermen, but for picnickers and campers alike. In addition to the 44-acre, no wake lake, the Park has many tree-shaded areas for the non-fisherman, as well. A lovely two-mile nature interpretive trail encompasses the lake and is great for hiking, biking, and cross country skiing in the winter. The lake has a roped-off swimming area (swim at your own risk-no lifeguard) and kayaks and canoes are available for rent.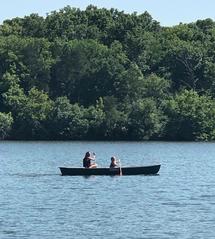 For overnight visitors, there are 2 wood framed cabins (Number 1 and 2) that sleep 4 people with one full sized bed and one full size pull-out couch. They run $75 a night plus tax. We also have 4 renovated rail-car cabins (small metal trailer type) that also sleep 4 people. 3 of them (Numbers 3,5 and 6) have one full sized bed and one set of twin sized bunks and the other one (Number 4) has 2 sets of twin sized bunks. They run for $50 a night plus tax. Finally, there are two new wooden cabins that sleep 8-10 people with an open floor plan. These cabins are $100 a night plus tax. All cabins have kitchenettes with fridge, microwave, stove, toaster and coffee pot. They all have indoor bathrooms with showers and heat/air conditioning. You will need to provide your own bedding and towels. Check in is at 2:00 pm and Check out is at 11:00 am. (Unless otherwise approved by management.)
Please note that ALL cabins are non-smoking cabins. If you smoke in the cabins, you will be charged a $100 cleaning fee and possibly have your visiting rights revoked. Thank you for following the city laws.

There are also several campsites available for RV's and campers. There are 13 full hook up spots that run $30 a night plus tax. Our 14 water/electric sites run for $25 a night plus tax. And our 8 electric only spots run for $20 a night plus tax. All RV/camper spots have their own fire pit and picnic table. PLEASE do not move the fire pits and if you move the picnic tables, you must return them to their original spot. Check out is no later than 2:00 pm for these sites. We also have numerous tent sites as well that run for $10 a night plus tax.
We have our Stone Lodge that can be rented for the day for $50.00 plus tax, or the Shelter house can be rented for the day $10.00 plus tax.

While reservations are not required, we suggest that you call ahead to make sure there is a spot available for you and your family. During the busy season, especially on the weekends, we can fill up fast!

We also offer an enclosed stone lodge to host parties or family gatherings that rents for $50 and we have one open shelter which is an ideal spots for picnics and events for $10.
There is a shower house on site that is available from April through October, depending on weather.

We now have a swim beach that is sandy and the sand goes all the way into the water. Please note that there is to be absolutely no alcohol on the swim beach and there are no dogs and no glass allowed on the swim beach. Also, there is NO PARKING in the swim/boat dock area. Again, if you break this rule, you will either be ticketed by the local law enforcement, towed or asked to leave the park. You are welcome to drive down to unload and pick up but you will need to park in the parking areas at the top of the hill unless you have a valid handicapped parking sticker or plate. This area is also our boat dock and there simply is not enough room for turn around and loading and unloading. We appreciate your cooperation on this matter.

While we are pet friendly, please note that your pet needs to be on a leash at all times when out in the park and while they can swim in the lake, they are not allowed on the sandy beach or swimming in swim area.

Whether your interest is camping, fishing, hiking, picnicking, or a reunion, you will find Indian Lake Park the perfect setting. We hope you will visit us time and time again

Please contact us for more info or to make a reservation. You may email us at themanagers@indianlakepark.com or call
​(319) 878-3706. Please be sure to provide a phone number for a return call.

Fun Fact : Indian Lake Park is home to Iowa's tallest standing Totem Pole!